Branch
First Foundation Bank
1601 Preston Road, Suite K, Plano, TX. 75093
Monday - Friday | 9am - 5pm
(945) 800-4910
Scroll Down
Our Plano Branch Specializes in Serving You
Meet your local bankers – Tyler, Matthew, Tiffany, and Jamie!
Come in to meet the team, or give us a call to inquire about our new client deposit promotion.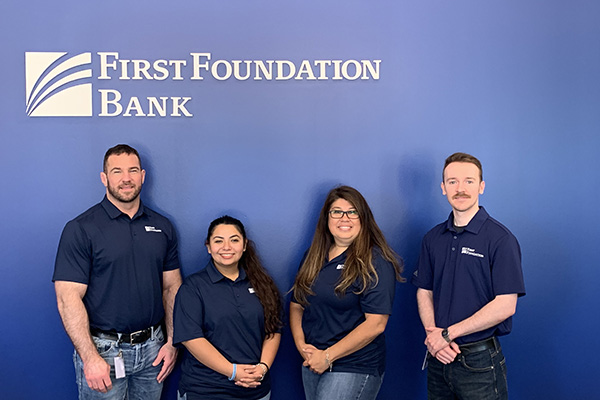 The Plano branch takes pride in supporting local nonprofits that make a significant contribution to our community. A few of the organizations we support include:
• Lovepacs Plano - Lovepacs was created to provide meals to students, who would otherwise go hungry during school holidays. Through coordination with local schools and its volunteers, Lovepacs engages communities to feed over 6500 children each school year throughout 270 schools in 18 communities in North and Central Texas.
• Dallas Hope Charities - Dallas Hope Charities unites to care for those in need throughout our social and geographical communities. By collaborating and hosting several programs including the Dallas Hope Center, the city's LGBTQ-focused homeless youth transitional living center and extension program, we are fulfilling our mission of providing food, shelter, and services that instill dignity, stability, and hope for all.
• Southern Dallas Progress Community Development Corporation - The Southern Dallas Progress Community Development Corporation's mission is to empower, enable and support community members in their efforts to revitalize Southern Dallas communities and neighborhoods. Southern Dallas Progress Community Development Corporation works to initiate, promote, and assist in housing and economic development, community improvement programs, as well as improving the circumstances of low-and moderate-income residents by reducing the level of unemployment and underemployment through the creation of job opportunities.
We look forward to serving the community of Plano!