Branch
First Foundation Bank
811 Anchor Rode Drive, Naples, FL. 34103
Click Explore Branch for full lobby and drive-thru hours
(239) 649-6000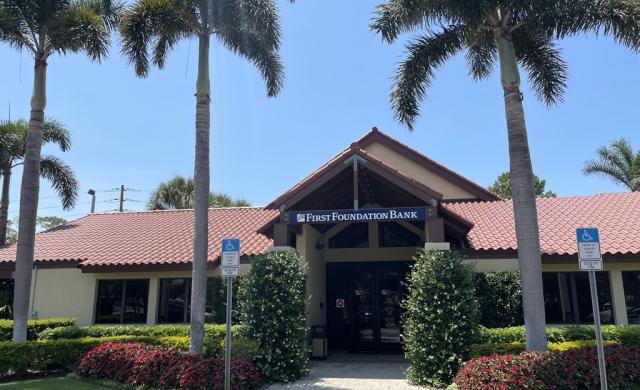 Scroll Down
Our Anchor Rode Branch Specializes in Serving You!
Monday–Thursday
Lobby: 9 am – 4 pm
Drive-thru: 8 am – 5 pm
Friday
Lobby: 9 am – 5 pm
Drive-thru: 8 am – 5 pm
Saturday
Drive-thru: 8:30 am – noon
Location – Nestled in the Moorings Neighborhood, our branch is centrally located in Naples. We are on Anchor Rode Drive west of Tamiami Trail/US 41. 
We are here to enhance the wealth and well–being of our clients through a comprehensive suite of integrated services and support the community in which we live and work. 
Full-Service Business Banking – Whether your business is just starting, in need of sophisticated treasury services, or looking for advice on business succession planning, we have you covered. 
Experienced Bankers – With our highly experienced team, world class service, and attention to detail, you can have peace of mind that our priority is always our clients. 
24/7 Access to your accounts via our mobile banking, online banking/bill pay, with ATM fee reimbursements nationwide up to $20 per transaction. We also have full business capabilities for your business banking needs at the comfort of your office.  
Proud members of the Greater Naples Chamber 
The Anchor Rode branch takes pride in supporting local nonprofits that make a significant contribution to our community. A few of the organizations we support include: 

The Naples Players - The Naples Players continually seeks to enrich, educate, and entertain our community through a superior theatre experience. TNP continues to celebrate season after season with performances, programs, and classes which are geared towards inspiring our community and defining our culture for the future of the arts in Southwest Florida. 
Ricky King Children's Fund – The Ricky King Children's Fund enriches the lives of children with disabilities in Southwest Florida by providing essential medical equipment and services in times of need. RKCF is often the last hope for these families. There is no other non-profit organization focused on providing medical equipment to disabled children in Lee, Collier, and Charlotte Counties. 
STARability Foundation – STARability exists to transform the lives of individuals with disabilities through social, vocational, and educational connections to the community, while strengthening awareness and respect for individual abilities.